With a year-round temperate climate, the Dallas-Fort Worth metroplex is home to hundreds of wild animal species ranging from small rodents to large reptiles. The warm weather combined with plentiful sources for water provides wild animals with a hospitable living environment along creek beds and high up in trees. However, many wild animals need to seek refuge inside the homes of area residents. If you live in Dallas suburbs such as Allen, Garland, McKinney, and Sachse, you might have experienced a wild animal infestation in the attic, basement, or garage.
Since 1981, the licensed and bonded team of home services professionals at Brinker Animal Removal has answered emergency critter control calls from Dallas-Fort Worth metroplex homeowners. Our certified contractors efficiently perform home inspections to discover the cause of wild animal invasions. We then devise effective animal removal strategies that include the use of humane trapping methods. The comprehensive services we offer often conclude with a wild animal proofing plan to prevent future infestations.
Here is an overview of the five most prevalent types of wild animals living in Dallas area homes.
Rodents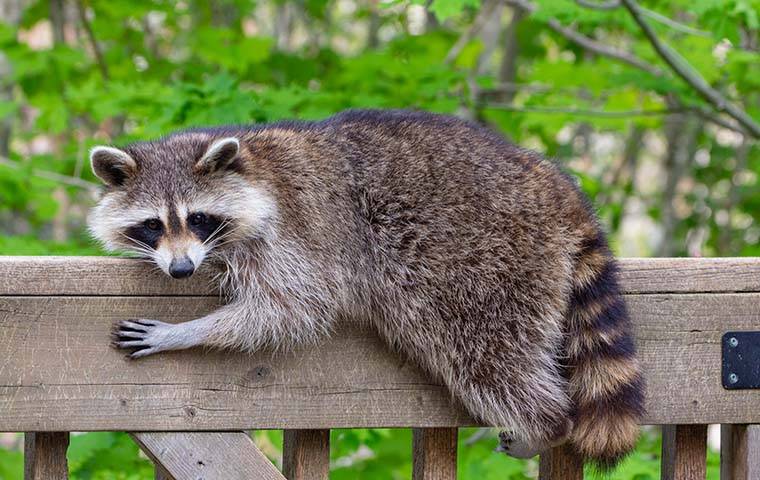 Brinker Animal deals with three primary types of rodents: rats, mice, and squirrels. The three species of rodents share several common characteristics:
Constantly growing teeth that require maintenance

Voracious appetites

Fecal matter that contains dangerous foodborne pathogens

Highly flexible skeletal systems
Constantly growing teeth is a substantial problem, as rodents must chew and gnaw on hard objects to maintain healthy teeth. This means mice, squirrels, and rats have the capability to destroy wooden support beams in the basement and wall insulation hanging in the attic. One of the first things we do to help homeowners in Dallas suburbs like Arlington, Grapevine, Rockwall, and Wylie, TX is to seal every hole and crack discovered along the roofline and around the foundation. Limber joints allow rodents to squeeze through holes and cracks that are much smaller than their body sizes. We then make sure all dry food sources are secured and stored in stainless steel containers.
Raccoons
Raccoons in Texas are one of the most difficult wild animal species to control because of two reasons. First, the bandit looking critters roam the streets at night. The nocturnal instinct makes it difficult for homeowners to detect the presence of raccoons. With razor-sharp claws and incredible strength for their size, the raccoon effortlessly climbs up and down the sides of homes and trees to enter attics. Although winter weather plays a role in forcing raccoons indoors, the cycle of life is why pregnant raccoons seek the warmth and security of an attic. Raccoons climb through chimneys, attic vents, and medium-size holes in the roof to reach safety.
Omnivorous raccoons eat everything in sight, including fruits, vegetables, and dry food carelessly left out in the open. The critters dig through garbage cans and when the food sources disappear inside a trash dumpster, the hungry animals begin the quest to access the food inside Dallas area homes. The second reason why raccoons are one of the most difficult wild animals to deal with is high intelligence. When raccoons find easy to access garbage containers left by the curb, the varmints immediately seek more easy to access the food inside the home where the garbage was left unprotected.
Here are common signs of a raccoon home invasion:
Spilled garbage containers
The sight of raccoons in yard or trees
Scratching noises heard in the attic
Paw tracks the size of a large cat
Bats
Bats present numerous animal removal challenges. First, like raccoons, bats like to come out at night. Because of their small statures and preference to hide in dark spaces, it is often difficult to notice the winged critters inside a Dallas area home. Second, bats are a protected species, which means homeowners living in Dallas suburbs such as Carrollton, Lewisville, Rowlett, and The Colony, Texas must hire a professional home services company like Brinker Animal Removal to extract the wild animals. Third, bat colonies can grow to more than 350 members, which means trapping the creatures requires a massive, coordinated effort conducted by a GAF certified contractor.
Here are a few interesting bat facts:
Texas is home to more than 30 bat species
Bats represent the only mammals capable of flying
Bat roosts form near ample sources of insects
Bat bites and scratches can cause rabies
Snakes
No other animal species benefits more from the mild central Texas climate than snakes. When the temperature drops, snakes often seek the warm comfort found inside Dallas-Fort Worth metroplex homes. Because of ease of access, you can expect to find snakes primarily in the basement of your home, although discovering the slithering critters in a first-floor room is not out of the question. When we inspect your home, we search for snakes in gardens, under decks, and behind crawl spaces located in the basement. Homeowners that find snakes often have a dilemma. Snakes take care of rodent problems, but their bites range from infectious to potentially life-threatening. When your home is overrun by snakes, you need to hire a team of reptile removal specialists from Brinker Animal Removal.
More than 60 different snake species live in the greater Dallas metro area, with seven of the species carrying dangerous venom. Of the venomous snakes living in central Texas, the most common are copperheads, cottonmouths, and rattlesnakes. As the most lethal of the venomous snakes, the coral snake looks similar to the king snake. To distinguish the difference between the two snakes, follow the saying "Red touches yellow, kills a fellow. Red touches black, a friend of jack.
Work With A Highly Rated Animal Removal Contractor
Brinker Animal Removal has earned praise from hundreds of Dallas area customers living in suburbs like Arlington, Lewisville, McKinney, and Plano. Yelp and Google are two online sources for customer reviews that demonstrate the commitment our team makes for delivering superior customer service and performing successful animal removal projects.
Contact Brinker Animal Removal today to schedule a free inspection for your Dallas-Fort Worth metroplex home.
Wildlife Removal Types
Request Your Free Inspection
Complete the form below to schedule your no obligation inspection.