Highly Rated Animal Removal Services In Dallas, TX
When you need to restore and remediate the areas of your home where wild animals lived, you need to contact a Dallas, Texas home improvement company that offers the complete line of animal removal services. For more than 35 years, Brinker Animal Removal has delivered on the promise of detecting, trapping, and removing wild animals. Our team of GAF certified professionals makes sure wild animals such as squirrels and raccoons never return to cause more damage to your home. We finish each contract by repairing the damage caused by wild animals and decontaminating all areas of your home where the critters lived.
Customer reviews online provide prospective clients with insight into the highly-rated restoration and remediation services that Brinker Animal Removal consistently delivers.
"Great company! They recently repaired my roof after a rodent infestation. They worked directly with my insurance company and made the process easy. They did great work and I will be using them in the future!"
With a strong presence in Dallas, TX suburbs like Allen, Carrollton, Flower Mound, and Sachse, Brinker Animal Removal welcomes new clients to our family because of referrals given by other clients. Word of mouth advertising online shows we are to go-to team of critter control experts in the Dallas-Fort Worth metroplex.
Why Wild Animals Seek Shelter In Attics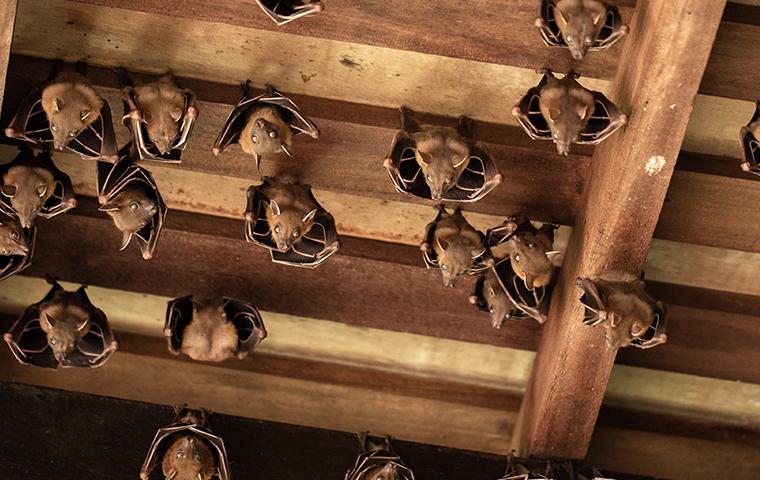 Wild animals thrive in the temperate climate that defines central Texas. Relatively mild winters make it possible for most species of wild animals to live outdoors during the short winter season. However, winter still brings in a season of low food supplies for bats, mice, birds, and possums. Trees lose leaves and dying grass dramatically reduces the food supply wild animals depend on throughout the rest of the year. By gaining access to your Dallas, Texas home, wild animals move much closer to dry food, as well as fruits and vegetables.
Pregnant wild animals need a warm and secure place to deliver litters of newborns. Pregnant rodents pose a huge problem for area homeowners, as rats, mice and squirrels can deliver multiple litters per year that increase the population by as many as 100 wild animals. That's a lot of mouths to feed and worse, pregnant wild animals create families that can devastate your home.
The Damage Wild Animals Do
Wild animals possess sharp claws and incredibly strong jaws and teeth that can turn a tidy attic into an unsafe location of your home. After entering the attic, wild animals search for materials to build nests for family members or soon to be family members. Wild animals start with soft materials, such as clothing, newspapers, and magazines to produce large nests. After chewing and clawing soft materials, wild animals turn to hard objects such as wall insulation and wooden support beams. If left undetected long enough, a family of wild animals can substantially compromiser the strength of wooden support beams and completely destroy one of more walls of insulation. Rodents, with teeth that never stop; growing are major threat to the structural integrity of your home.
The damage to your Dallas, TX home can run into the thousands of dollars.
Full Attic Restoration Services In Dallas, Texas
Brinker Animal Removal offers a comprehensive list of wild animal restoration services. We understand that many cases of animal infestations go undetected for weeks, if not months. Our team of experienced animal removal experts specializes in repairing the damage caused by wild animals to roofs and the interior section of an attic that connects to a roof. Whether you need shingles replaced where wild animals clawed their way into your home or wooden support beams repaired to ensure the structural integrity of the attic, we have the knowledge and equipment to complete the job efficiently and under budget.
For wall insulation, our team of licensed and bonded home services professionals removes damaged wall insulation by using a large hose to suck the damaged insulation away from each attic wall. We deploy an atomizer to disinfect and deodorize the attic after removing the large collection bags holding the damaged attic wall insulation. The last step for wall insulation restoration involves blowing in new insulation to return the attic to its previous level of weather protection. If you have damaged fiberglass wall insulation, we remove the damaged insulation by hand and dispose of it by following federal environmental guidelines.
Attic Remediation Keeps Your Family Healthy
Wild animals leave behind urine and fecal matter that contain potentially deadly microorganisms. Although your family spends little time in the attic, critters can transport unhealthy microorganisms to other areas of your home, such as the kitchen and living room. Foodborne pathogens that thrive in food sources can trigger a high fever, severe diarrhea, and incredibly painful stomach cramps. After trapping and removing wild animals from the attic, our next goal is to decontaminate the attic to ensure the health of you and your family.
Remediation requires us to gain full access to your property. We schedule remediation appointments at times when you are out of your Dallas, Texas home. The best time for wild animal remediation is during the day when you are at work and the kids are attending school. However, we make sure to accommodate your busy schedule by decontaminating the attic at times that fit into your day. We calculate wild animal remediation services by the square footage of an attic and anywhere else that needs thorough decontamination. The remediation of a small attic can run between $200 and $300, with larger attic spaces costing as much as $600.
Humane Trapping Of Wild Animals
Home restoration and remediation happens after we successfully remove every wild animal from your Dallas, TX home. Unlike many other animal removal contractors, Brinker uses humane trapping methods to clear your home of destructive pests. We place food baits at the entrance of large traps to limit the amount of pain and suffering trapped wild animals go through. After catching rats, possums, and raccoons, our team of accomplished contractors transports the wild animals back into the wild close to ample food and water sources. Any sick or injured wild animals we encounter go directly to the nearest animal shelter or hospital.
Working With A Sense Of Urgency
Brinker Animal Removal understands the clock is ticking on every animal removal job. From compromised attic structures to harmful foodborne pathogens, you cannot afford to hire a home services company that milks the clock during animal removal projects. In fact, you want to work with a home-services contractor that offers emergency wild animal removal services.
When wild animals move into your Dallas, Texas home, you need to act with a sense of urgency to trap and remove the destructive pests. In many cases, our clients do not detect wild animal infestations for several days after the invasions. This means wild animals have already started blazing the path of destruction that costs you money and possibly your home. We are on call 24 hours a day to provide highly rated animal restoration and remediation services for clients living in communities like Arlington, Grapevine, Plano, and The Colony.
Call our office or complete the convenient online form today to schedule a free inspection for your Dallas, TX home.
Request Your Free Inspection
Complete the form below to schedule your no obligation inspection.