Attic Decontamination Services For Dallas, Texas Homeowners
Trapping and bringing critters back into the wild is just step one of the animal removal process conducted by the GAF certified professionals at Brinker Animal Removal. Our team of licensed and bonded contractors confronts wild animal infestations head-on by implementing several pest prevention strategies to ensure your Dallas, TX home never becomes the next home for rodents and wild animals such as possums and raccoons. With two steps completed for a critter control project, there remains one more important step to finish our commitment to providing superior animal removal services.
Your home needs thorough attic decontamination.
Wild animals always leave a reminder of their presence behind in the attic in the form of nests, filth, and the overbearing smell of feces and urine. Eliminating the remnants of wild animals from your home requires thorough attic decontamination that few home services contractors in Dallas suburbs like Irving and McKinney provide for homeowners. Animal removal in Dallas, Texas requires the expertise of a home services company that successfully performs all three phases of the animal removal extraction process.
Trapping
Attic Decontamination
Overview Of Attic Decontamination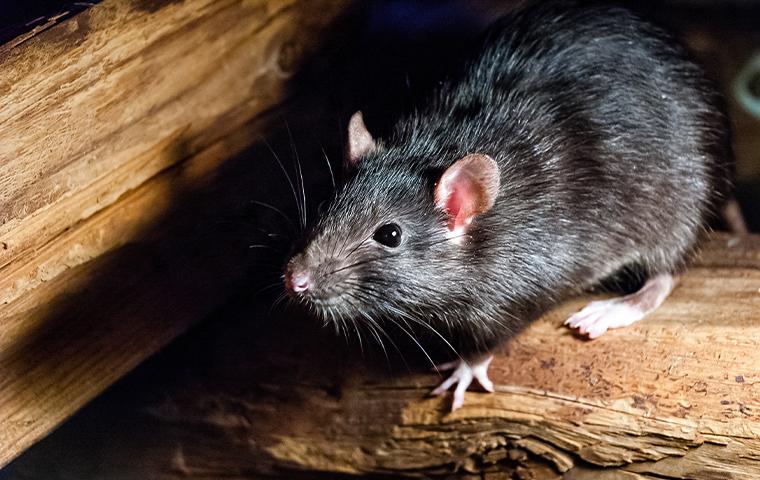 Attic decontamination represents an extensive process that eliminates all the health risks produced by a rodent infestation. It does not matter if the invasion is just a couple of mice or a horde of rats delivered over the course of a few months. Like ticks and fleas, rodents carry potentially life-threatening diseases in hair, blood, feces, urine, and body oil. The diseases include Hantavirus Pulmonary Syndrome which people contract by inhaling the dust formed by the creation of wild animal nests and fecal matter.
Here is the list of other diseases wild animals can carry into Dallas, TX homes:
Plague
Tularemia
Hemorrhagic Fever with Renal Syndrome
Lassa Fever
Leptospirosis
Lymphocytic Chorio-meningitis (LCM)
Omsk Hemorrhagic Fever
Rat-Bite Fever
Salmonella
South American Arenavirus
A lot of fancy names describe diseases that cause debilitating side effects, including diarrhea, high fever, and stomach cramps. The symptoms last for weeks and in some cases require emergency medical care to prevent loss of life.
When wild animals invade your Dallas-Fort Worth metroplex home, you need to hire a home-services contractor that successfully completes the three steps required for efficient critter control.
Destructive Rodents In Dallas, TX
When rodents invade your home, the critters chew up soft materials like clothing and newspapers to build nests. When the soft stuff runs out, mice, rats, and squirrels turn to hard objects to complete their home construction projects. With razor-sharp teeth and claws, rodents can tear through wall insulation and wooden support beams in no time. Everything a wild animal touches in the attic becomes contaminated, which means we have to remove entire sections of the attic to complete the attic decontamination process.
The Attic Decontamination Process
Our attic decontamination services involve a thorough cleaning of the attic to eliminate any sign of fecal matter, as well as the nest's wild animals, build to provide warmth and security for the entire family. Brinker Animal Removal vacuums attic floors to remove hair and solid animal droppings, before power washing attic floors, walls, and ceilings using a powerful disinfectant that eliminates harmful pathogens. We replace wall insulation, as well as apply an anti-odor agent that makes the presence of wild animals in your attic a distant memory.
The comprehensive attic decontamination process begins with a meticulous inspection of your attic to discover where rodents and other types of wild animals live. Our team of highly-rated pest removal experts humanely traps every critter living in the attic. After taking captured wild animals back into their natural habitats, we then start attic decontamination by getting rid of fecal matter.
Efficiently Going Green To Restore Your Attic
The disinfectants we use for sprays and apply to damp cloths and sponges are powerful enough to decontaminate an attic, but mild enough to use in a home where pets and children live. Our dedication to going green means the disinfectants quickly remove germs, mold, fungus, mildew, and bacteria, without permanently destroying other components of the natural environment. Our attic decontamination process takes anywhere from a couple of days to a little more than a week to complete.
How Dallas, Texas Homeowners Should Prepare For Attic Decontamination
Brinker Animal Removal treats attic decontamination as a highly collaborative process between homeowners in cities like Carrollton and Rowlett and our team of home services specialists. You can help make the attic decontamination process go smoothly by implementing a few preparation tips.
Remove Pets and Children
Brinker Animal Removal uses environmentally friendly disinfectants and other attic decontamination materials, but we recommend keeping your home pet and child-free for the few hours we need to apply the spray that eliminates bacteria. Pets and young children possess immune systems that cannot handle some types of cleaning agents. Have a friend or family member watch pets and children for a few hours to prevent a commercial disinfectant from causing harm.
Ventilate Your Home
We encourage our clients to open the windows to usher in the fresh air, especially in the attic and rooms located upstairs. Ventilating your Dallas, TX home not only circulates air to reduce foul wild animal odors, but it also thins out the scent left behind by decontamination agents. On classic sweltering central Texas summer days, we suggest running at least one fan in the attic to circulate air.
Remove Clutter
If you are like most homeowners, the attic and basement represent the most cluttered areas of your house. Before we begin the attic decontamination process, we ask our clients to remove clutter from the attic to give us more room to inspect, clean, and ventilate. Relocate things like old newspapers and magazines, as well as the furniture you store in the attic for future use in the living room or as an item you plan to offer at a garage sale.
Make Sure You Are Home
When we decontaminate attics, our team of accomplished home services contractors might need access to areas of your home that require your presence. We might have to enter a bedroom to run a disinfectant container snake through a small wall opening or access the basement to turn off the power to your home. Instead of leaving a voicemail for you at work or texting you during a day of running errands, we prefer to communicate with you in real-time by having you nearby.
For more than 35 years, Brinker Animal has led the way in communities such as Allen, Flower Mound, Grapevine, and Plano, Texas by offering a comprehensive list of critter control services. We humanely trap rodents and transport the critters back into the wild. After clearing your home of wild animals, we help implement steps that prevent a future infestation. Where we differ from our competitors is that we complete phase three of every critter control project. Our team of GAF certified contractors decontaminates your attic to prevent potentially dangerous bacteria from harming your family. Attic decontamination also eliminates the foul odors left behind by rats, squirrels, and mice.
Contact Brinker Animal Removal today to schedule a free critter control inspection for your Dallas, TX home.
Request Your Free Inspection
Complete the form below to schedule your no obligation inspection.