Rodent Prevention And Repair Services In Dallas, TX
Many of the clients that Brinker Animal Removal serves do not detect the presence of rodents inside their Dallas-Fort Worth metroplex homes until the critters have caused considerable damage. Rodents such as mice, rats, and squirrels prefer not to make contact with humans, which means the wild animals either come out to destroy at night or when you and your family leave the home for extended periods. Since rodents typically live in areas of the home where you rarely visit (attic, basement), months can pass before you notice rodent damage.
When you discover the presence of rodents in your Allen, Grapevine, Plano, or Wylie, Texas home, you should call the home services team at Brinker Animal Removal.
Since 1981, the licensed and bonded contractors at Brinker Animal Removal have efficiently removed rodents from Dallas, TX homes. Our comprehensive list of animal removal services includes repairing the damage done by destructive rats, squirrels, and mice, as well as implementing measures that prevent future rodent infestations. Brinker Animal Removal has earned the coveted GAF Certified Master Elite Contractor designation, which the home services industry organization hands out to contractors that have established a reputation for delivering superior home services to Dallas, Texas homeowners.
The Damaged Caused By Rodents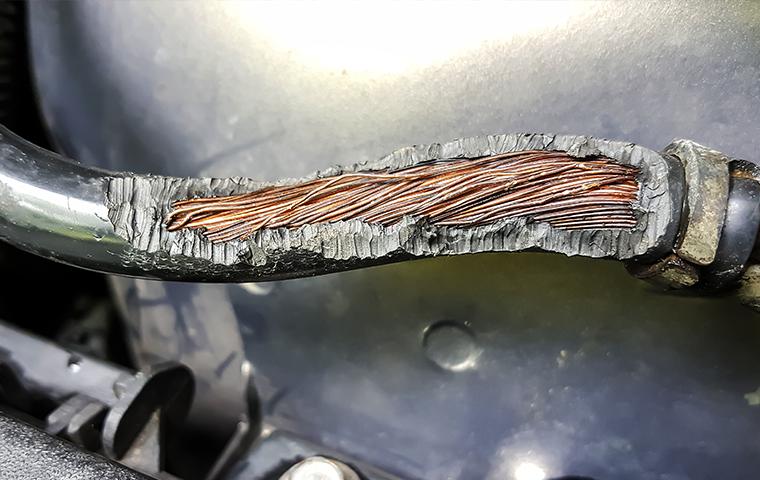 Rodents have a problem with their teeth. From the day incisors start filling in along the gum line, rodents have to deal with teeth that never stop growing. To prevent constantly growing teeth from causing serious health issues, rodents must chew and gnaw on objects to ensure their teeth remain the proper size. This means once a rodent enters your Dallas, Texas home, anything in its path is fair game for its razor-sharp teeth.
Rodents start working on soft objects like clothing, newspapers, and magazines to build spacious nests located in the attic or behind a wall. After the easy to chew objects disappear, rodents turn their steely teeth on hard objects that include wooden support beams and electrical wiring insulation. A family of rodents can transform a sturdy wooden support beam into wood chips in a matter of a few hours. Damaged electrical wiring insulation can cause a power outage or worse, spark a fire in the attic or behind a living room wall.
Because of the devastating damage left behind by rodents, you should work with Brinker Animal Removal to restore your home to mint condition.
General Rodent Repair Services
Brinker Animal Removal offers general rodent repair services that we perform to prevent further deterioration of the location where rodents hunkered down for the winter or where a pregnant rodent decided to raise a family. We start by repairing the damage caused by rodents chewing and clawing their way through roofing and/or foundation materials. Rodents have no trouble with excavating through materials that deter other types of wild animals. Our team of rodent removal experts applies cement to damaged brick and installs new wooden panels along the roofline.
After taking care of exterior damage to your Dallas, TX home, Brinker Animal Removal starts repairing air duct damage. We either repair holes and torn areas of the air duct system or perform an extensive air duct replacement project to ensure your home maintains the proper amount of ventilation. Our team of rodent repair specialists then adds a thin layer of material in the attic and basement that prevents moisture from rotting wood and causing rust damage to metal support beams. Brinker Animal Removal repairs damage caused by rodents in every room of your home, from the dining room to the master bedroom. We also repair rodent damaged found in sheds and garages.
Home Decontamination Service
Hungry rodents actively search for food and when the critters find it easy to access fruits, vegetables, and cereal, it is only a matter of a short time before the critters leave urine and fecal matter in the kitchen and anywhere else where you store food. Rodent fecal matter contains potentially life-threatening foodborne pathogens that cause illnesses like Salmonella and Lassa fever. Symptoms of foodborne illnesses include high fever, severe diarrhea, and incredibly painful abdominal cramps. One of the most important services Brinker Animal Removal offers involves decontaminating your home to prevent rodent urine and fecal matter from sending one or more of your loved ones to the hospital.
We schedule our decontamination service well in advance of a visit to your home to give you plenty of time to make plans. One of the reasons GAF awarded us its cherished certification is because we operate transparently with every client. This includes clearly explaining every step of the decontamination process from when we plan to be at your home to what to expect when you return. Our goal is to decontaminate your Dallas, Texas home while creating little if any disruption to your everyday routine.
Preventive Measures To Rodent Proof Your Home
Getting rid of rodents is one thing; making sure the critters never return to your Dallas, TX home is a different thing. Brinker Animal Removal helps homeowners living in suburbs such as Arlington, Garland, Irving, and Richardson implement rodent prevention strategies. We start by sealing every hole and crack we find along the roofline and around the foundation of your home. Rodents possess limber joints, which allows the wild animals to squeeze through holes and cracks that are much smaller than their body sizes. After sealing your home, we turn our attention to easy to access food sources in the kitchen and basement.
We recommend storing dry food in airtight stainless steel containers that you place high above the floor in tightly closed cabinets and pantries. Remove all fruits and vegetables from the dining room table and kitchen counter and secure the produce in the bottom compartment of the refrigerator. Once we secure your food, we eliminate any water sources we discover in your home, as well as along the perimeter of your property. This means fixing leaky pipes and clearing clogged drains. We also prune bushes to remove food sources for famished squirrels, mice, and rats. Once a family of rodents learns food is scarce around your Dallas, Texas home, the hungry critters will search elsewhere for sustenance.
Emergency Rodent Removal And Repair Services
Because many of our clients discover the presence of rodents inside their homes after several weeks after an infestation has started, the damage caused by the critters might be severe enough to require emergency rodent removal and repair services. Brinker Animal Removal offers an emergency phone line for clients to call that operates 24 hours per day. While our competitors sleep the night away, our team of home services contractors is ready to respond to emergency rodent removal phone calls throughout the night.
Contact Brinker Animal Removal to schedule a free inspection for your Dallas, TX home. We perform a thorough inspection of the exterior of your home first to detect any possible points of entry for mice, rats, or squirrels. We then move indoors to search for the location where rodents call home. Our first stop is typically in the attic because rodents prefer to live in a space that provides plenty of warmth, along with enough security to protect rodent babies.
Request Your Free Inspection
Complete the form below to schedule your no obligation inspection.