Skunk Removal Services in Dallas, Texas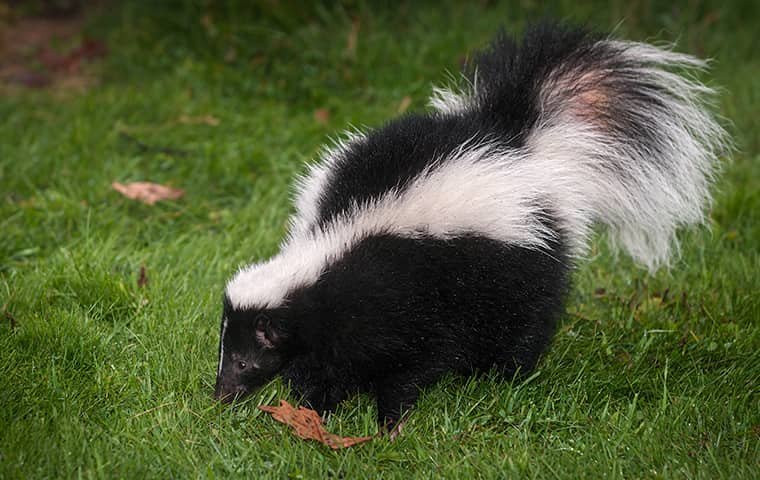 The temperate climate enjoyed by Dallas-Fort Worth residents is the ideal climate for animals to thrive in the wild. With virtually a year round supply of lush vegetation, wild animals like skunks do not need to forage for human food to satisfy hunger pangs. However, skunks like to live under porches, homes, and backyard sheds to avoid detection by larger predatory animals. Because of rapid land development in Dallas suburbs such as Arlington, Carrollton, Flower Mound, and Richardson, skunks have become more of a problem for Dallas, Texas area homeowners.
For more than 35 years, the licensed and bonded team of professionals at Brinker Animal Removal has implemented humane trapping methods to help Dallas, TX homeowners eliminate skunk infestations. With a GAF certification, Brinker offers the credentials you need to get rid of skunks. GAF awards its coveted certification to home services contractors that have established a record of performing highly rated skunk removal services for several years. Brinker Animal Removal ranks high in client satisfaction because of our commitment to excellence and the transparent way in which our team of skunk removal experts conducts business.
What You Need to Know about Skunks
Like raccoons, skunks are critters of the night. The wild animal emits a potentially blinding musk that can stay on skin and clothing for up to a month. Skunks release the stench primarily as an effective way to alert other animals to their presence in the wild. However, the primary danger of a skunk encounter is receiving a bite that leads to a series of painful rabies shots. Skunks also carry pathogens that cause illnesses such as listeriosis, leptospirosis, and canine hepatitis. Debilitating illnesses trigger symptoms such as high fever and acute abdominal pain. Considered omnivores by the scientific community, skunks prefer to dine on plants as opposed to consuming animal meat. The preference for plants means Dallas, TX homeowners should make protecting the family garden a top priority for preventing skunk infestations.
Skunk Proofing Your Dallas, Texas Property
The home services specialists at Brinker Animal Removal help Dallas-Fort Worth metroplex homeowners skunk proof their homes. The first step involves storing pet and human food in tightly sealed stainless steel containers and placing the food high above the kitchen floor in locked cabinets and pantries. Most skunk infestations occur outdoors in the backyard, which means we recommend building a strong mesh fence over a garden and other sources of vegetation. Pick up the fruit that has fallen from trees to discourage skunks from foraging for easy to find food on your property.
Brinker Animal Removal uses a topical lawn application to eliminate food sources for skunks. The topical application does not harm the fruits and vegetables you grow in a nearby garden. You should remove potential skunk homes, such as large brush and woodpiles that skunks often use as staging areas before making the push for an attic or a basement. Skunks typically do not create shelters, but instead, use the dens constructed by other wild animals. You can prevent a skunk invasion by eliminating the dens built by other wild animal species.
Humane Skunk Trapping
Brinker Animal Removal not only efficiently traps and removes skunks from Dallas, Texas homes. we use humane methods for eliminating your skunk problem. Large cages and meat baited traps prevent skunks from enduring pain and suffering during the extraction process. After luring skunks into spacious cages, we take the critters back to their natural habitats in the wild.
Skunk Facts:
Skunk's musk can cause temporary blindness.
Skunks often communicate with scent marking.
Skunks are omnivores (eating plants and animals), but prefer plants.
The smell of a skunk's musk can last 2 weeks to a month.
Male skunks carry enough fluid to spray up to 5 times.
Contact Brinker Animal Removal to learn how we provide superior skunk removal services for Dallas, TX homeowners.
Request Your Free Inspection
Complete the form below to schedule your no obligation inspection.