Certified Bee Removal Services in Dallas, TX
Brinker Animal Removal has earned a reputation in the greater Dallas-Fort Worth metroplex for efficiently removing a wide variety of wild animals. From a pregnant rat to a family of skunks, our team of licensed and bonded animal removal professionals quickly responds to emergency calls to ensure the homes of our clients living in suburbs such as Allen, Flower Mound, Richardson, and Wylie, Texas do not suffer damage caused by chewing and clawing. We also provide a service that not many other home services contractors offer.
We Remove Bees From Attics & Behind Walls.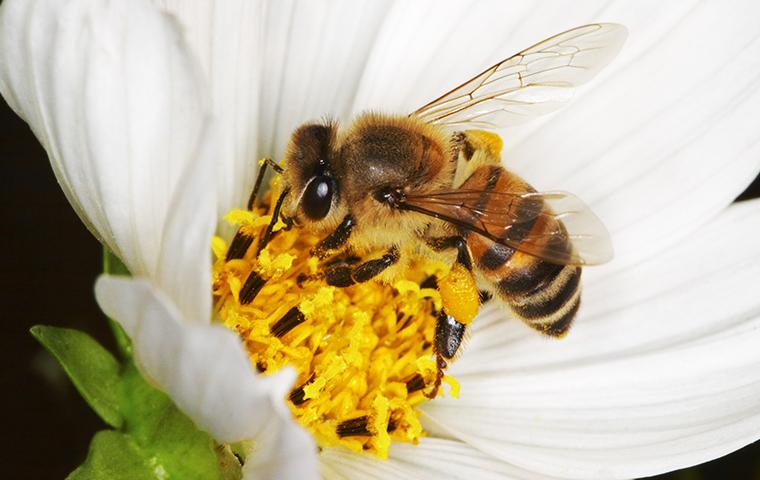 Brinker Animal Removal offers the most comprehensive list of bee removal services of any home services contractor operating in Dallas, TX. We have received the highly coveted GAF Certified Master Elite Contractor designation for delivering highly rated bee removal services for decades. Our contractors work well as a team to discover the location of beehives and then swiftly taking the steps required to relocate bees back to their natural habitats where they thrive. GAF also recognized Brinker Animal Removal for using transparent business practices when providing superior bee removal services.
Problems Bees Cause in Dallas, Texas Homes
Many of our clients do not notice a bee infestation until months after the first group of bees has established a hive in an obscure location in the attic or under a porch overhang. A fully mature beehive attracts hundreds of swarming bees that work hard to create honey, as well as protect the queen bee. A swarm of bees is capable of turning their attention from maintaining the hive to anyone who ventures too close to their hard work. Dozens of bee stings can send you to the emergency room and just one sting can put someone who is allergic to bee stings on the brink of respiratory failure.
Even an undisturbed swarm of bees can cause problems for Dallas, TX homeowners. The heat of a central Texas summer melts the honey produced by bees, which runs down one or more walls to cause structural damage to drywall. A ceiling is also vulnerable to the sticky substance bees produce that often melts from intense heat. If undetected, honey-soaked wood can foster the growth of black mold. The presence of black mold creates health problems for people that suffer from indoor allergens.
Removing the Hive Removes the Bees
Bees are a vital part of our ecosystem by providing sustenance to plant life. Although the prodigious pollinators are a necessary link in the agricultural system, the buzzing insects should work their magic outdoors far away from your family. When you hire Brinker Animal Removal, you work with a team of contractors that identifies the type of bee buzzing around the attic. Knowing the type of bee helps us implement the correct strategy for hive removal. You probably hear about how some companies kill bees in the attic or basement. At Brinker Animal Removal, our primary goal is to keep your family safe and protect the work performed by bees, which involves removing hives and returning the honey production nests back into the wild.
Ask for a Free Inspection
You might notice a few bees swarming near the gutter or you discover a swarm of bees buzzing around a completely covered hive. In any case, we recommend contacting our expert team of bee removal specialists for a free inspection of your home. Our record of achievement for removing bees in Carrollton, Garland, Plano, and Sachse, Texas is unsurpassed by other animal removal companies.
Contact Brinker Animal Removal today to schedule a free inspection for Dallas, TX home.
Request Your Free Inspection
Complete the form below to schedule your no obligation inspection.