Complete Sachse Wildlife Removal For Businesses
Sachse, TX, is a beautiful suburb located just east of Dallas. It's an ideal place to call home, and no one agrees with that sentiment more than local wildlife. Here in Texas, wildlife activity is a year-round threat that all property owners should be concerned about. Having a wildlife problem on your Sachse property is a real nightmare, but the good thing is, you don't have to face it alone. We're here to help.
Brinker Animal Removal is a family-owned and operated company that has been servicing properties throughout Collin and Dallas counties since 2015. We're proud to protect the entire DFW metroplex with wildlife removal and exclusion services. We also offer full attic restoration and a lifetime warranty that promises lasting results you can trust. Contact us today to discuss your wildlife control needs.
Commercial Pest Control In Sachse, TX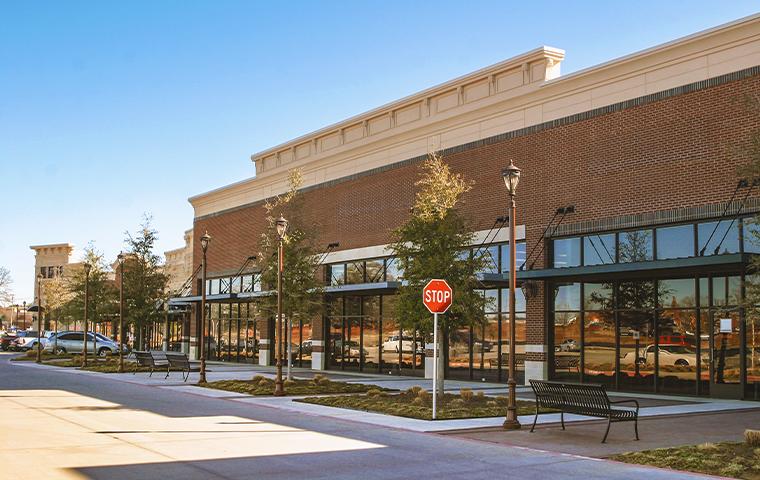 Experiencing wildlife activity on your commercial property can cause a lot of serious consequences for your business and everyone inside. Our complete wildlife removal services help guard your facility against a wide range of local species, some of which include opossums, skunks, birds, bats, bees, raccoons, rodents, snakes, and squirrels. We service over 50 local businesses, working with a variety of facilities such as restaurants, multi-family housing, warehouses, office spaces, retail shops, grocery stores, and many others.
We begin with a thorough initial inspection of both the interior and exterior, looking for signs of wildlife activity, indications of chewing or gnawing, any strange noises, or apparent problem areas. We also do a full inspection of the insulation, the attic, and the ceiling to determine if anything needs replacing. From there, we write up a detailed estimate and come up with a service plan tailor-made to suit your needs. Call Brinker Animal Removal to learn more.
The Importance Of Professional Opossum Control In Sachse, TX
We have our fair share of opossums here in Texas, and that means local properties can reap the consequences that come with them. While it's true that opossums are seldom aggressive, there are some dangers that you should know of. Here are some negative effects opossums can have on your property:
They build nests inside your shed or other parts of your structure.
They carry bacterial infections and diseases, like tuberculosis, ulcers, tularemia, and spotted fever.
They carry mites, ticks, and other parasites than expose you to further infestations.
They leave droppings behind and contaminate food and vulnerable surfaces.
They will bite if attacked, as they get defensive when threatened.
When dealing with wildlife on your property, you mustn't try to handle the situation on your own. All wildlife activity requires professional removal services, and that's where the team at Brinker Animal Removal comes in. Get in touch with us to discuss your opossum control and prevention needs today.
What Every Sachse, TX Business Owner Needs To Know About Bird Control
When birds get into your business, they pose a variety of dangers to your overall operation and everyone inside the structure. When looking for a place to nest, they can get into your attic, vent systems, chimneys, etc. You'll often hear chirping, perhaps coming from inside the walls or from the ceiling. Birds also leave droppings all over the place, and their feces have an awful smell.
Here are some other negative consequences that can result from bird activity:
Large-scale structural damage that is unsafe and costly
Nests built in remote areas that are sometimes hard to access
Urine, feces, and droppings that contaminate food and water sources
If you think you may have birds nesting inside your structure, the best thing you can do is call in a team of experienced wildlife professionals. Brinker Animal Removal provides guaranteed bird control and prevention services that give you year-round protection for your Sachse property. Reach out today to set up your initial inspection.
Does Your Sachse Business Have A Problem With Skunks?
We're all aware of the putrid stench of skunks when they give off their pungent oil spray. But, before things get that far, is there a way to determine whether you have skunks on your property in the first place? Luckily, some signs indicate the presence of skunks.
First of all, you may find holes in the yard. Skunks tend to burrow in already existing holes in the ground made by other wildlife species. Also, it's possible to discover skunk tracks as well as nesting material around the premises like piles of brush, rocks, stumps. In addition, you're likely to see signs of scratching or hear the scratching in person.
If you detect any of these signs, it's imperative to reach out to the professionals right away. The team at Brinker Animal Removal has a lot of experience in the detection and removal of skunks, and we perform the necessary exclusions to keep them off your property all year long. Call us today to get started.
Request Your Free Inspection
Complete the form below to schedule your no obligation inspection.